Vladimir is no ordinary employee. His life's journey, which began in Ukraine and eventually led him to Canada, is a remarkable story of resilience, determination, and a lifelong love for the open road.
Vladimir's story is deeply intertwined with the world of trucking. Born to Inna, a factory worker, and Vladimir Sr., a truck driver, his childhood was filled with fascination for the large trucks that his father drove. Little did he know that he would follow in his father's footsteps, even though his parents initially had different aspirations for him.
After completing high school, Vladimir took a different path, pursuing studies at the Agro-Cultural College, where he earned a diploma in mechanics. He worked in a massive tractor shop and even tried his hand at entrepreneurship. However, the allure of the road proved too strong to resist. His father, unwittingly, served as his inspiration to become a truck driver, and Vladimir embraced this career wholeheartedly. He spent his young years riding alongside his dad, learning the ropes, and honing his skills. The prospect of a desk job never held any appeal for him; he was destined to explore the world from the driver's seat.
In 1996, Vladimir married Anna, and in 1997, their daughter Vera was born. Vladimir's desire to explore the world through trucking eventually led them to Israel in 2000. This marked the beginning of a new chapter, filled with language challenges, cultural adjustments, and the adaptation to a different trucking landscape.
Vladimir's remarkable drives through Israel showcased his ability to traverse the entire country in a day, moving through five diverse climatic zones. He could start at the Red Sea, with scorching temperatures of +35°C, and by nightfall, enjoy a breathtaking view of the snow-covered Hermon mountains. Vladimir embraced each change in scenery with an adventurous spirit, underscoring the country's remarkable diversity.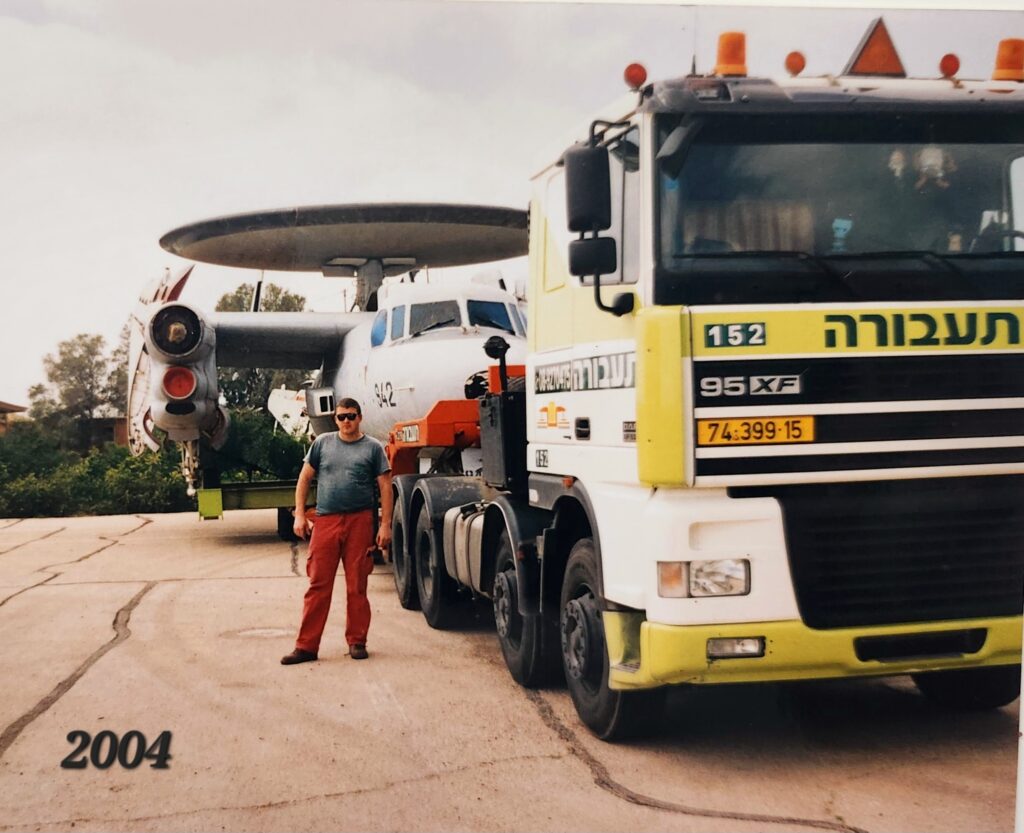 For 15 years, Vladimir honed his truck driving skills with Taavura, specializing in oversized transportation, and later with Alef Or, focusing on event rentals in Israel. One career highlight was a project in Cyprus for TAAVURA, where they navigated left-side traffic and expanded their skills, including operating a right-hand drive truck.
In 2009, their family welcomed a son, Max. During this time, the idea of moving to Canada began to take shape, and in March 2014, Vladimir embarked on a solo journey to Toronto, with his family staying back in Israel. Four months later, his family joined him in Canada, marking the beginning of their new chapter together in a new country.
Vladimir's career in North America has not been without its challenges. He faces the harsh realities of North American weather, enduring snowstorms, icy roads, and strong winds. His calm demeanour or, attentiveness, and focus on safety have allowed him to navigate these obstacles while ensuring the safe delivery of his cargo.
Among Vladimir's most cherished moments are the trips he's taken with his children. With the road stretching out before them, they find time for heartfelt conversations, discussions, and even singing together. Vladimir's son and daughter have a unique connection with him on these journeys, talking about cars, laughing, trying new foods, and sharing unforgettable moments.
While Vladimir's journey has been nothing short of extraordinary, he still holds dreams close to his heart. He aspires to drive in Australia, maneuvering multi-trailer trains through its vast landscapes and wild roads. For Vladimir, one such trip would be the peak of his trucking career.
Vladimir's life is a testament to the unbreakable bond between a person and their passion. Through adversity and unfamiliar terrains, he has persevered, proving that a love for the open road can lead to a lifetime of adventure and fulfilment. His story is an inspiration to all who dream of following their passion, regardless of where the journey takes them.